In my 25 years as a consultant in the anodizing industry, I realized that about 70 % of my consulting clients were not anodizers but the people who had to "deal with" anodizers. Perhaps you have had also frustrating experience ordering anodized parts and not receive what you wanted?
You might think that your anodizer was just not good at their job. Or that anodizers will always try to keep their costs as low as possible and thereby sacrificing the quality of your aluminum product. But that does not do the problem justice. In my experience, the main reason for errors and frustrations is ineffective communication. Yip, just like in any relationship, the relation to your anodizer will improve tremendously by learning how to communicate better.
8 important things to agree on with your anodizer
To make your next phone call with your anodizer much more successful, here is a checklist with all the aspects of the anodizing process you should talk about.
Agree on the properties and quality of the anodizing results.
Choose the right alloy to achieve the properties you want.
Identify the microstructure of your different aluminum parts as this will affect the surface look.
Agree on handling and racking of the aluminum parts as part of the preparation.
Decide together on the right pretreatments for the specific parts of your aluminum product.
Set specifications for the anodizing process as these parameters affect the properties.
Choose the most environmentally friendly sealing
Agree on quality control tests that fit the properties of your anodized product.
This checklist is a good start to improve the communication with your anodizer and to receive the correct anodized parts. If you would like step up your game even more and become more confident in asking the right questions, join my new live online training: "Working with your anodizing supplier."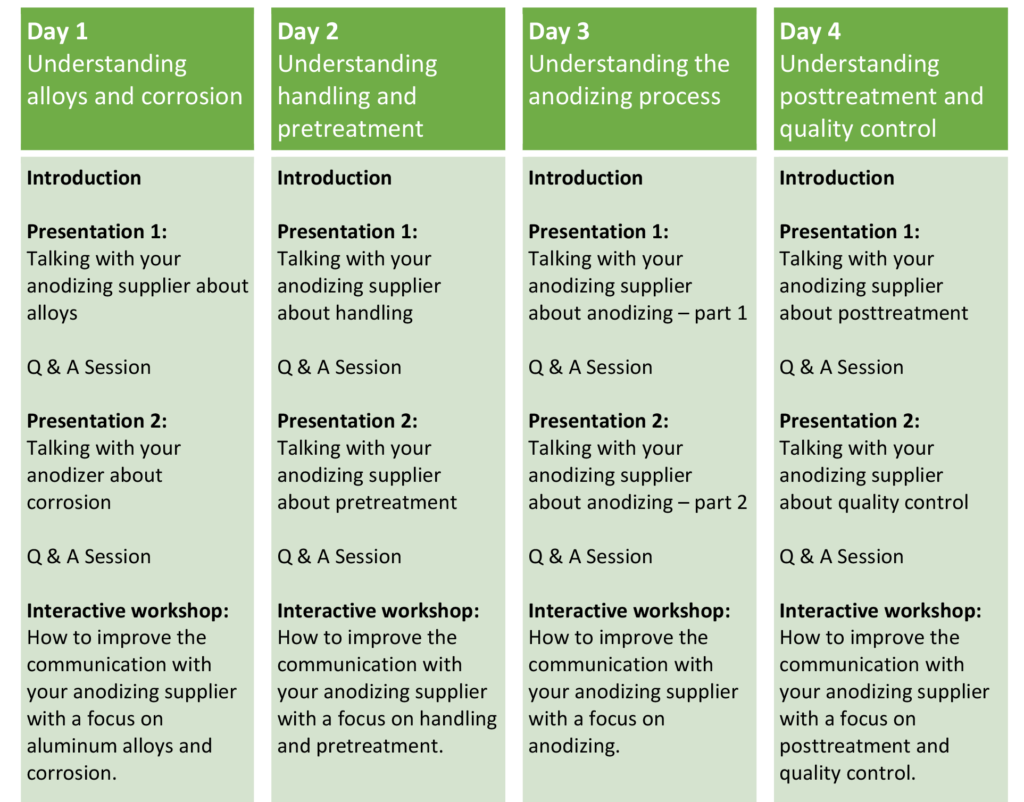 The course consists of four workshops, each treating an independent subject. You can also attend single workshop days. This interactive live online event is held on Zoom in 4 x 2,5 hours sessions. We will record the presentation and make them available to you after the workshop. The dates of our next courses are:



WORKSHOP SERIES IN APRIL: 7, 14, 21, and 28 April 2021 (03.00 - 5.30 PM CEST) 

WORKSHOP SERIES IN MAY: 5, 12, 19, and 26 May 2021 (03.00 - 5.30 PM CEST)
Looking forward to seeing you at AnodizingSchool!
Sunny regards,
Anne Deacon Juhl

P.S. If you would like to learn some anodizing basics, have a look at this blog post in which I give an easy to understand introduction.
________________________________________________________________________________